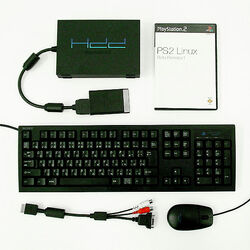 Linux for PlayStation 2, also known as Linux for PS2 or PS2 Linux, was a kit released by Sony Computer Entertainment in 2002 to allow the PlayStation 2 to be used as a personal computer. The whole package includes a Linux-based OS, a USB keyboard and mouse, a VGA adapter, a PlayStation 2 Ethernet adapter, and a 40 GB Hard Disk Drive (HDD). An 8 MB memory card is required and must be formatted during installation, therefore deleting all game save data on it, but afterwards it can still be used for game saves. Installation of Linux for PlayStation 2 is through a command line interface so basic knowledge of Linux is needed.
External links
Edit
Ad blocker interference detected!
Wikia is a free-to-use site that makes money from advertising. We have a modified experience for viewers using ad blockers

Wikia is not accessible if you've made further modifications. Remove the custom ad blocker rule(s) and the page will load as expected.